How to Have the Best Period
We all know that periods can be tough. For many of us, periods last around 4-5 days of every 28. This works out to a total of nearly 10 years over the average lifetime, so we thought that there must be ways of making it a bit more enjoyable. Here we have compiled some of our top tips to keep you calm, content and comfortable on your period.
PERIOD CHIC
Getting dressed up – or down – for your period is always a bit of a balancing act. It's that fine line between craving comfort, and knowing that getting a little bit more dressed up might make you feel better. Between bloating, needing to lie down, and being mindful of possible leaks, it can sometimes feel impossible to find the perfect middle ground.
Olivia von Halle are definitely one of the top players for super chic, yet comfortable loungewear. Known for their uncompromising luxury pieces and guided by a passion for travel and lifestyle, these outfits blur the line between pyjamas and eveningwear and you could probably go straight from bed to dinner without anyone noticing. One of our favourite pieces is the Poppy Allegresse floral printed silk nightshirt, the perfect period attire with exquisite mother of pearl buttons- the loose-fit and bright colours are everything that we want for this time of the month. Don't say we didn't warn you, you will not want to take this off.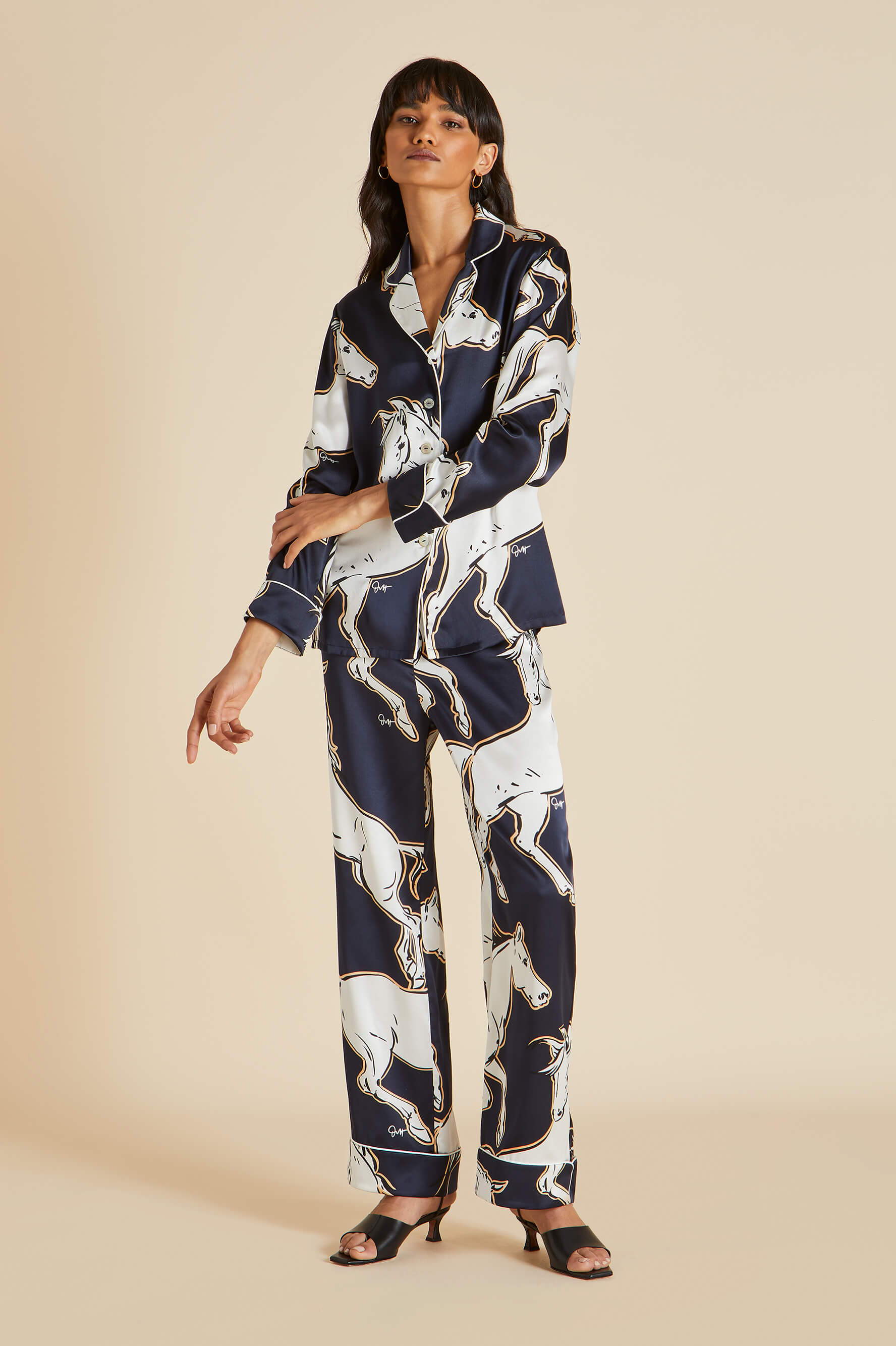 https://olivavonhalle.com 
CUT DOWN THE CRAVINGS
Studies suggest that changes in levels of oestrogen and progesterone might be the cause of those unavoidable monthly chocolate cravings. It can't just be us that suddenly devours three chocolate bars and can't understand why, until we come on our periods the next day?! Turns out that is all down to hormone fluctuation.
While we all need to give in to the cravings every now and again, it might not be what we crave that will make us feel better in the long run. Some foods can minimise uncomfortable symptoms, while others will make them worse. Here is a list of food and drink tips that should help you through your period :
Salmon - Rich in omega-3 fatty acids, antioxidants and anti-inflammatory properties, salmon helps to relax the uterus and fight against physical discomfort.

Citrus Fruits - A healthy alternative to the sugary treats that we all lean towards at this time of the month! Oranges, lemons and limes are full of fibre as well as vitamin C, helping to provide relief from both mood swings

and

bloating.

Chamomile tea -  An alleviating beverage for your mind and body, chamomile tea relaxes your nerves as well as your uterus, squashing stress and the severity of cramps.

Avoid large amounts of salt - Consuming large amounts of salt can lead to water retention, causing further bloating and abdominal discomfort.

Limit your sugary snacks - Eating too much sugar can encourage a spike in energy, which is likely to be followed by a crash. This will leave you feeling tired and emotional, and let's face it, we don't need any help with that on our periods!

Cut down on coffee - Caffeine can exacerbate headaches and water retention, leaving you uncomfortable and bloated.
TRACK YOUR FLOW
To have the best period you can, we feel that it always really helps to be prepared. Trying to find information online that is up to date, and that you can trust, can seem like searching for a needle in a haystack, so we had been looking for a better alternative. 
Flo is an app that supports women and girls with health tracking and information at each stage of their reproductive cycle. Use the app to track your menstruation, predict your next cycle and look for expert health research from professionals. Whether you are at the start of your menstrual journey or looking to track your fertility, pregnancy, early motherhood or menopause, this app has everything that you need to feel supported and informed.
CONNECT WITH CRYSTALS
You don't have to be a particular type of person to understand the power of crystals. Crystals hold space for emotional, mental and physical alignment, and that sounds like exactly what we need more of when we are feeling extra hormonal. By encouraging positive thinking and self-discovery, crystals can help you to prepare for the hormonal shifts of menstruation.
Intention-setting rituals during your period can act as a visual reminder of your goals and affirmations. This can help you to feel calmer, more confident and more in touch with your emotions. Turquoise stabilizes mood swings, so is the perfect crystal for helping to create a direct path from a PMS-riddled brain to a serene inner-self. Sleep with the stone underneath your pillow to discourage stress and irritation.
A TOUCH OF REALISM
Getting stuck into a good book is one of the best things you can do to escape a persistent bad period mood. Our favourite book of the moment is 'So Lucky' by Dawn O'Porter. This Sunday Times bestseller is fearless, frank and for anyone who has ever doubted themselves. The book shows insights into the reality of different women's lives, highlighting the fact that we usually only see what is on the surface and questioning whether anyone's life is actually as perfect as it looks.
Highly acclaimed by Sara Pascoe, Pandora Sykes and Scarlett Curtis, So Lucky is the perfect dose of gritty realism to keep you fully engrossed and entertained.
HYDRATE IN STYLE
Drinking water can reduce bloating during your period and ease pain, so make sure that you are staying hydrated throughout the day. Drinking hot drinks is also beneficial as they can increase blood flow throughout your body and relax your muscles, lessening cramps caused by uterine contractions. 
With varied designs and never-let-you-down performance, the original Chilly's bottle keeps your drinks cold for 24 hours or hot for 12 hours, so perfect for long days out of the house. But for your everyday commute, it is definitely worth taking a look at the ground-breaking LARQ bottle, the world's first self-cleaning water bottle and water purification system. The bottle uses UV-C LED light to eliminate up to 99.9999% of bio-contaminants from your water and bottle, which makes it one less thing that you have to worry about. 
How great are the designs on the bottles below?! These are from Chilly's collaboration with artist Daren Thomas Magee. Whether you are taking a walk in the sun or having to sit on stuffy public transport, there is always a sustainable, stylish way to stay hydrated.
PERIODS AND POWER MOVES
Sometimes we just need to feel supported, and for someone to tell us that we are stronger than we feel in that particular moment. 'Periods & Power Moves' is a weekly podcast presented by Vianney Leigh, all about empowering women to embrace their menstrual cycles. 
They discuss how to use the power of your period to heal your mind, body, soul and spirit, challenging the status quo and rewriting conversations around menstruation. With talks about all things periods, spirituality, the subconscious mind, feminine leadership, success and sex, this podcast will help you to harness your feminine power and feel stronger in yourself. Definitely the boost that we need to get us through those challenging period weeks! Available on Spotify and Apple Podcasts.
Being on your period doesn't have to ruin your week. Let us know if you try out any of our recommendations and if there is anything else that you can't live without on your period!